Some premises with steps have provided a temporary ramp which can be deployed on demand. Some services have special arrangements for clients with mobility problems, for instance, arranging home visits.

Some of the smaller shops have limited room inside and possibly a step, which could obstruct wheelchair access and make it difficult for other groups. Also space limitations coupled with shop layout can restrict access to some groups.

Toilet facilities
There are public toilets on the Crown St carpark and on Station Rd. Both have accessible toilets. In addition, all pubs, bars and restaurants and many shops have some toilet facilities for customers. The supermarkets provide accessible toilet facilities. More details can be found in the Stone directory.

Getting around
Stone High St is pedestrianized and is paved. Traffic is allowed before 10:00 am and after 4:00 pm mainly to allow traders access to shop frontages. Entry at those times is supposedly for access only but some traffic uses it as a through road, which does cause some issues for pedestrians.

The High St has a lot of street furniture, such as ornamental posts, bike racks, waste bins and benches as well as trees. Shops use A boards for advertisement and some put out planters to improve the look of their shop and some cafes put tables and chairs in the street for al fresco dining. This gives the town a continental feel but does cause some issues for pedestrians.

The canal towpath is well made right through the town and canal crossings are available at various locations. There are pleasant riverside and canalside walks by Westbridge Park and Crown Meadows generally accessible to all abilities although the paths can get muddy when wet.

Travelling between the High St and Westbridge Park can be awkward due to the complex road junction between Crown St and Stafford St and the narrow footpath at this point.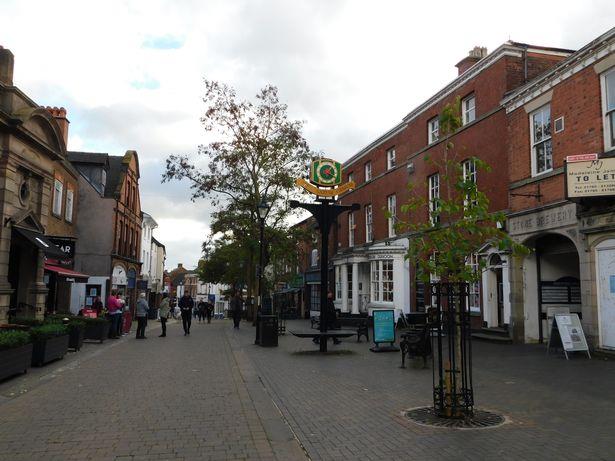 Stone
Stone is the second biggest settlement in the borough and is a vibrant market town comprising two residential areas, Stone and Walton on either side of the River Trent. There is a good variety of shops and services in the town and a wide selection of bars and restaurants, mainly located on or near the High St. making it a popular daytime and night-time destination. There are a number of leisure areas in or near the town, like Westbridge Park and Crown Meadows with access to the River Trent and the Trent and Mersey canal. (map)

Walton has three small retail areas, which are generally accessible and a community centre. It is easy to walk between the two via a subway under the A34 at the Walton roundabout.

There are a number of local facilities away from the centres.
A detailed list of shops and facilities can be found
here.
Please note: all information has been supplied by the service provider and was correct at time of publication but may be subject to more recent change.

Getting to Stone
Driving
– Stone is equidistant from junctions 14 and 15 of the M6 and is on the A34 and A51 trunk roads and the B5026 to Eccleshall to the west and the A520 to Leek to the north east. The town centre is encircled by a one-way ring road.


Parking
- There are a two council car parks on Crown St and Christchurch Way with light controlled pedestrian crossings over the ring road to the High St. Details including maps can be found here. The supermarkets have their own parking which is mostly free to customers and all have a number of accessible spaces for blue badge holders and parent and child. Morrisons are on Mill St, Marks and Spencers are on Westbridge Park and B&M are payable on Crown St. Aldi are on the A34. Street parking is limited. The Walton shopping areas all have small free car parking areas.


Rail
– Stone Station is on the Pottery Loop between Stafford and Crewe served by London Midland trains hourly service. It is ½ mile from the centre along Station Rd. The northbound platform is only accessible via a footbridge from the southbound platform and is not suitable for wheelchair users and is difficult for people with mobility problems, parents with pushchairs and people with heavy or unwieldy luggage. However, London Midland trains do offer assistance for those who need to use the northbound platform but are unable to access it due to mobility issues (for more details see train and station facilities).


Bus
– The 101 service runs half hourly and connects Stone and Walton to Newcastle u Lyme and Hanley to the north and Stafford to the South. The 14/14A service runs half hourly and connects Stone to Stoke to the north, Eccleshall and Stafford to the south.

There are a number of taxi companies and accessible vehicles that service Stone.


Canal
– Stone is a canal town on the Trent and Mersey and visitors on boats can moor close to the town centre and access the facilities via a number of routes, the closest being over the Workhouse Bridge.


Access to facilities

Most facilities are on or near the High St. Stone has a number of old buildings and access can be difficult involving steps and narrow entries, however many of the premises have been made step free and have double or wheelchair accessible doors.

Access to facilities cont'd